In my last post, I briefly mentioned that Loony Leonard Coldwell is apparently suing one of his critics. His claims are probably as absurd as usual and his latest lawyer is likely busy cherishing every word that Coldwell burbles, as true. But maybe that lawyer should see Loony's personal thoughts on all lawyers first?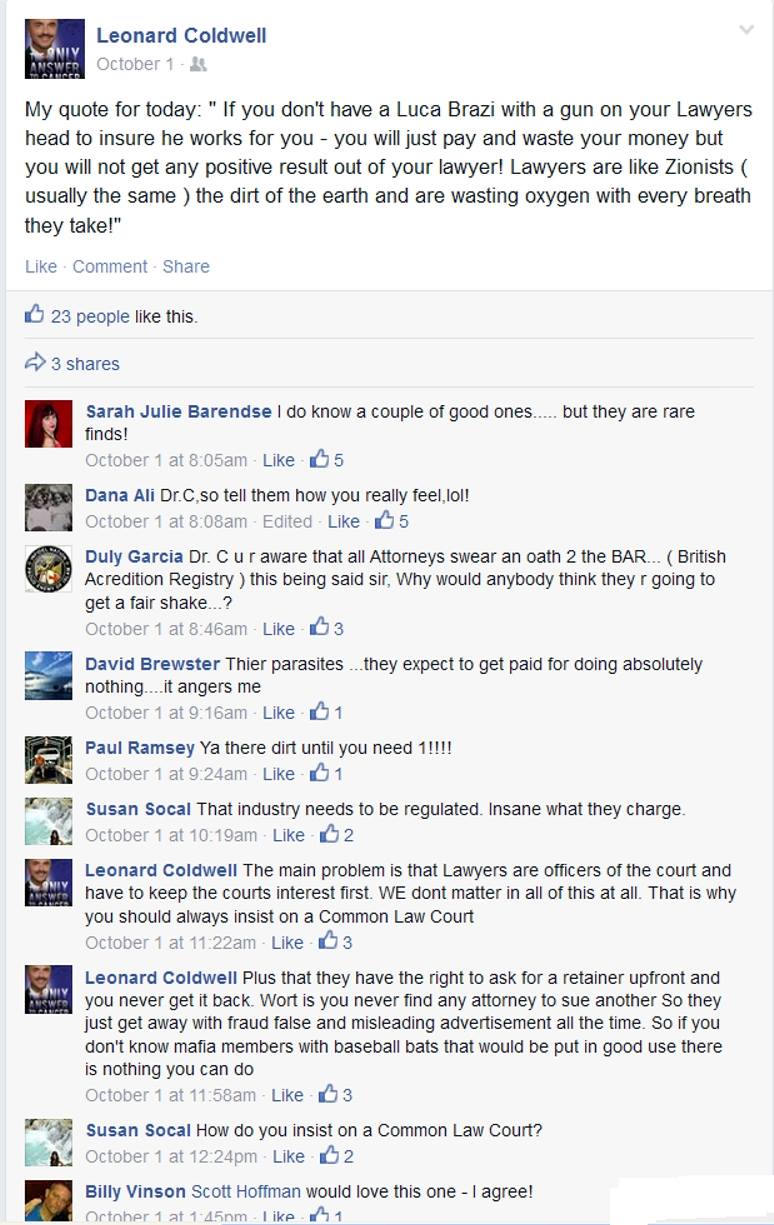 [dropcap]L[/dropcap]eonard Coldwell needs a lawyer to get his lies heard in court, including the lie that he's suing me – which he isn't, and can't – but the rant above seems pretty clear about what he thinks of lawyers. Lawyers are not cheap, but perhaps Loony's should consider charging him more for the sentiment.
Not surprising that Leonard Coldwell talks about having people killed. He's good at that and it's rumoured it's not the first, second or even third time he's wanted people dead!
While many people hate lawyers, very few of them are stupid enough to wish them dead on social media. Even with half-brained morons supporting them!
Knowing the way his miniscule brain operates, he will likely deny ever having posted those comments. More likely use the same song-and-dance routine about being hacked and people putting up fake accounts. Talking of which, his Rudi Kauder account has disappeared from Facebook from what I can tell, since my last story. Waiting for another "My facebook isht kaput from zee hakkaz!" A sentiment noted by another reader, too:
He will probably tell his lawyer that it wasn't he who wrote that, though. "Somebody hacked my Facebook account again!" ~ Facebook user