=============
BREAKING NEWS!!
After all the rumors and debacles about whether or not the November 2020 USA election was rigged or not, it now appears that news coming out of Fulton County, GA, can confirm that the Conspiracy Theorists were justified in their claims of voter fraud by the Democrats!
More than 42,000 votes were redacted from Trump and over 106,000 ballots were adjudicated! In Fulton County alone, over 150 precincts voted 90% or more for Joe Biden. 
Fulton County Election Director had this to say:
…duplication of the ballots were done by election office employees in a separate location without any oversight of a voter review panel.
Of the 94 precincts in Dekalb County, it is statistically impossible to have 9 out of 10 votes for Joe Biden. Trump had 30,000 votes subtracted in Doge, Dougherty and Putnam. In Bibb County, exactly 12,173 votes were subtracted from Trump and astonishingly exactly 12,173 votes were added to Biden's tally!  More information in this video.
Furthermore, Fulton County has been found to have falsified 7 audit tally sheets containing fabricated vote totals for their respective batches of ballot images. 
…a batch containing 59 actual ballot images for Joe Biden, 42 for Donald Trump and 0 for Jo Jorgensen was reported as 100 for Biden and 0 for Trump. – Sydney Powell.
Powell goes on to say that seven batches of ballot images with 554 votes for (Joe) Biden, 140 votes for (Donald) Trump and 11 votes for (Jo) Jorgenson had tally sheets in the audit falsified to show 850 votes for Biden, 0 votes for Trump and 0 votes for Jorgenson. It's no wonder then that Biden claimed to be the most popular nomination for POTUS, ever. 
The error reporting rate in Fulton's audit is a massive 59.7%!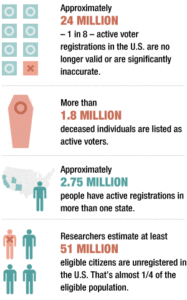 Folks, you don't have to look very far on social media platforms such as Telegram and Gab and others, for continuing news on the November 3rd 2020 Election fraud. It is now so blatantly obvious that the Democrat Party committed massive election fraud. Whistleblowers, original vote counters, machine programmers, machine operators, all coming forward with the truth on what happened. We see the evidence, we see what officials did to secure Biden as POTUS and push Trump out. Now it's all coming to light.
The question is – what will be done about it and will the law be allowed to go into effect to remove the corrupt Democrats from office, including Joe Biden and Kamala Harris, from the highest seats in the free world? It remains to be seen but I for one, am not holding my breath!