If you haven't heard yet, or if you haven't seen the news, you'll need to read this post to see why the three giant media companies of Facebook, YouTube and Twitter, are suppressing free speech and an inalienable right to know about medical data from leading experts in their field. At least they claim to be and there is plenty of information about to back up that they are who they say they are.

Here's some info on each doctor in the video:

Simone Gold, MD – Emergency Medicine Specialist in Los Angeles, CA and has over 31 years of experience in the medical field. She graduated from Rosalind Franklin University Of Medicine Science/The Chicago Medical School medical school in 1989. She is affiliated with Centinela Hospital Medical Center.   Dr. Bob Hamilton – pediatrician from Santa Monica, California. Medical School UCLA Geffen School of Medicine, Los Angeles, CA. Internship UCLA Geffen School of Medicine, Los Angeles, CA. Residency UCLA Geffen School of Medicine, Los Angeles, CA.   Dr. Stella Emmaneul – primary care doctor in Houston, Tx. Went to medical school in West Africa, Nigeria. Has practiced in Louisiana and now resides in Texas where she has treated more than 350 Covid patients.   Dr. Dan Erickson, DO – Emergency Medicine Specialist in Bakersfield, CA and has over 16 years of experience in the medical field. He graduated from Western Univ Of Health Sciences/College Of Osteopathic Medicine Of The Pacific, Western University Of Health Sciences medical school in 2004.   Dr. James Todaro, MD – a Ophthalmology Specialist received his medical degree from Columbia University, Vagelos College of Physicians and Surgeons in NY, and completed his surgical training with four additional years of residency in ophthalmology.   Dr. Joe Ladapo MD, PhD – Physician at UCLA and clinical researcher. Internal Medicine, American Board of Internal Medicine, 2011. Residency Internal Medicine, Beth Israel Deaconess Med Ctr-East Campus, 2009-2011. Internship Internal Medicine, Beth Israel Deaconess Med Ctr-East Campus, 2008-2009. Degree Harvard Medical School, MD, 2008 Harvard University Grad. School of Arts, Sciences, PhD  

US President, Donald Trump, love him or hate him, has been trying to reveal the truth about a preventative cure for Covid-19, for several months. The by-now-well-known drug Hydroxychloroquine has made the rounds across news sites, TV stations and social media sites around the world. 

The media is in argument about whether or not the drug is effective or not, with several of those saying it isn't, not being fans of The Orange One, and therefore are trying to scoff at his take on the drug, in a lame-ass attempt to discredit him further. 

I was going to attempt to link to websites for both Trump and the drug he mentions, but after seeing the total carnage war going on between a gazillion sites, I think you can do your own research if needed. I will say that the Wikipedia page for the POTUS, is locked and filled with a lot of misinformation about his character and things he simply hasn't said. I've never been a fan of Wikipedia anyway. Any website that allows Joe Bloggs to rewrite someone else's work, can't be good for facts.

My reason for writing this particular post, before sending out another post I have pending regarding Leonard Coldwell (yes, that old fake fatty), his minions and Facebook Fuhrer Mark Zuckerberg, is due to my infuriation at well-known CNN liar – Anderson Cooper's recent post on YouTube over the past couple of days, slamming the doctors in the video (link below) and trying to make out that Trump is soliciting false information. Kinda ironic really.

Anderson Cooper has become well-known for his one-sided opinions, downright rude rhetoric towards anyone who disagrees with him and of course, his fake newscasts! Who can forget this weather gem he tried to use to create fear about flooding: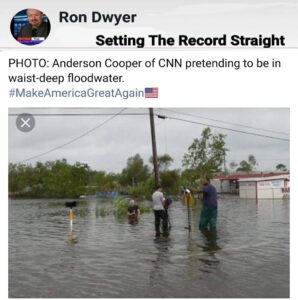 In that report, it is claimed that Cooper was kneeling in the water to make it look deeper than it really was. For comparison, his crew is standing in front of him, ankle deep in the same water. 
Now I have no idea whether or not if he did actually fake it, he claims on this YouTube video, that he did not. But  I trust AC as much as I trust gasoline to put out a fire! I'll let you make your own decision on that. 
So what did he say that has me infuriated? He has basically referred to the African doctor in the video, as a witch. As someone else said on YouTube, if anyone else had made such a claim on TV, they would be labelled a racist, immediately. But given that Cooper himself has been known to use sources that have been discredited, and edit his own interview footage to show a different view of the original to the point it puts the interviewee in a bad light, he's not someone we can should be taking seriously. His ratings have plummeted and continue to do so. 
The video that 'they' don't want you to see, has been removed from YouTube, Twitter, Facebook and other media sources, as 'misinformation'. 
MISINFORMATION? You have a group of America's most renowned medical personnel, all doctors, giving out the TRUTH about the Covid-19 pandemic, mainly that it has been over-hyped, used as a political tool to discredit Donald J Trump, over-inflated numbers in relation to the deaths from it, and its spread across the US as being one of the fastest ever since 1918's Flu Pandemic. All by the Democrats. 
These doctors are allegedly experts in their respective fields, most coming out of UCLA, and have been in medicine for decades. But you have all these social network media sites claiming they know better. And we all know that the people who run these sites, are not fans of Trump. 
Other sites have refused to delete the video. For now.
There are many people and sites out there refuting both sides of the argument, and whether or not their claims are true, the fact that the social media giants moved to take down this video so quickly, speaks volumes. Personally I'm on the fence at the moment, but I definitely do not appreciate such tech-giants/media-giants, suppressing information in the way they are, all while allowing hate speech against Trump and his administration. I have friends who support him, I have friends who hate him, but we are still friends, because we value opinions even if we don't agree with them. A group of doctors however, is more than just an opinion. 
Here is a link to the current posting of the video, where I suggest you download it for yourself before it is removed entirely. Make your own judgements and don't listen to the dramatic lies of people like Cooper.  
The video can be seen and downloaded from this website by clicking HERE. Should the video become unavailable, I will upload it at as soon as possible. I may try in the very near future, to add it to this story as a compact file. Stay tuned.