UPDATE: 30/5/'14:In a reply from Sonic's Customer Services they say they don't have an Abe Husein working for them. Was he fired for earlier indiscretions? Trying to verify information. More coming soon.
So, you've been working hard all day, put in more than 12 hours, maybe even around 14 – 16 like some of us do, and all you want to do is grab some fast-food and go home. Well, don't do it at Sonic Burger!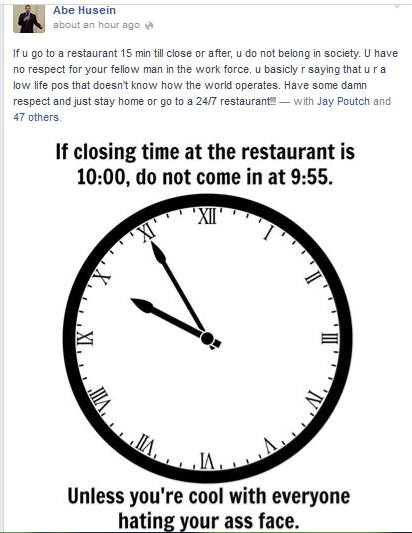 Just when you thought the illiterate burger flipper couldn't get any more insulting, he now thinks you're a piece of lowlife sh*t if you want to eat!
If you go to a restaurant 15 min till close or after, u do not belong in society.
Where I come from, and indeed, where I live now, closing time is just that. Not five minutes before, but at the stated time. And sometimes, that's just enough time to grab what you need and be on your way.
In some cases, it can even be the difference between making a profit or loss on the day's business.
How many times have you wanted to go somewhere and you turn up half an hour to fifteen minutes before closing time, only to find they've closed the doors, started locking down and look at you through the glass like you're using their steps as a toilet?!
You might expect that at a place that hasn't been busy all day, but would you really expect it at a fast-food restaurant?
No, you wouldn't! And nor should you!
But Abe Husein, who works for Sonic Burger at Kansas City, MO, obviously thinks it's his right as a member of staff, to feel disgruntled with you for wanting to dare go eat there 15 minutes or less, prior to closing!
And with an attitude like his, I'm surprised anyone would want to go there at all!
His sentiments have been duly noted and shared with Sonic HQ and their Facebook page.
As the caption says – you can always go to Wendy's or any number of alternatives, where I'm sure your business would be more than welcome!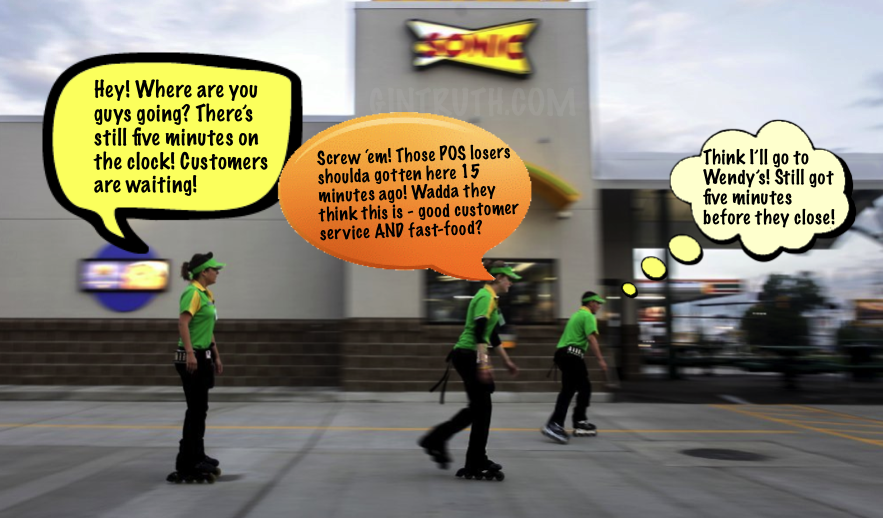 In a follow up to his ludicrous rant on Facebook, Abe had this to say, obviously still thinking the customer is not worthy of his presence! :